Hello everyone! I'm not sure if this has been mentioned yet on my blog, but basically I have a bit of a shoe obsession.. Generally I can't afford the shoes, I just lust over them and dedicate 3472 reblogs to them on my
Tumblr
. Recently I've been admiring so many pairs that it's getting overwhelming, and the other day I literally sat down and made a list. I guess I thought I'd share that list with you now!
Before I start blogging myself to tears over these pieces of art for you feet, I'll get one thing across: I
love
extreme footwear. When I say extreme, I mean shoes that could double as weaponry they're so adorned with spikes, or platforms so high that you can't wear the shoes outside the house. If I could afford these shoes, I still don't know if I'd wear these shoes out and about.. perhaps if I was a bit older? We'll see.
I did say extreme..
1. Demonia boots/goth stompers
These shoes.. they're a statement? Maybe more than a statement. They're a staple to any goth stripper's wardrobe, I know..
I don't care!
I love the way people are now channeling them in a way that they can be worn with casual outfits, i.e. my Levi's cutoffs and any old t-shirt. These boots have a reputation for being heavy, and
totally kick-ass!
I love them. Plus, they make your legs look skinny-out.
Shiny flatforms. Aren't they amazing?
2. River Island Silver Flatforms
I recently saw these in a River Island sale, and nearly died. They were my size, the last pair there and at €16 I was nearly sold. But, of course I had no money! I've been praying that no one in Waterford has as good a taste in shoes as me and that they'll be there for me next time.. if I get to town! I just checked the River Island site and the shoes have been reduced to £8, €9 in Ireland and feel like my heart has been ripped out of my chest.. non-buyers' remorse, it exists guys! But hey, hopefully the price will have gone down in my local RI, and hopefully they will still be there.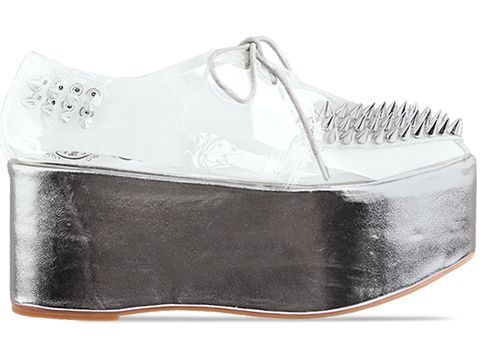 The beautiful Jeffrey Campbell Stinger Spike
3. Jeffrey Campbell Stinger Spike
These shoes are absoulutely incredible, they can't be overlooked! Their height, their spikes.. the whole lot!
They're transparent.
A definite nod back to jelly shoes, I can only imagine the blisters you'd get from these bad boys without socks. Speaking of which, these would be great for anyone who loves quirky, printed ones! You could even make your own tie dyed ones, if you wanted to go the extra mile.
Calling all sock enthusiasts!
Haha. Though, at $139.95, I don't think I stand a chance unless they're still sold when I have a steady income, which could be 7 odd years. I think No.2 are my cheap alternative to these beauties, as they still have the silver and the flatform.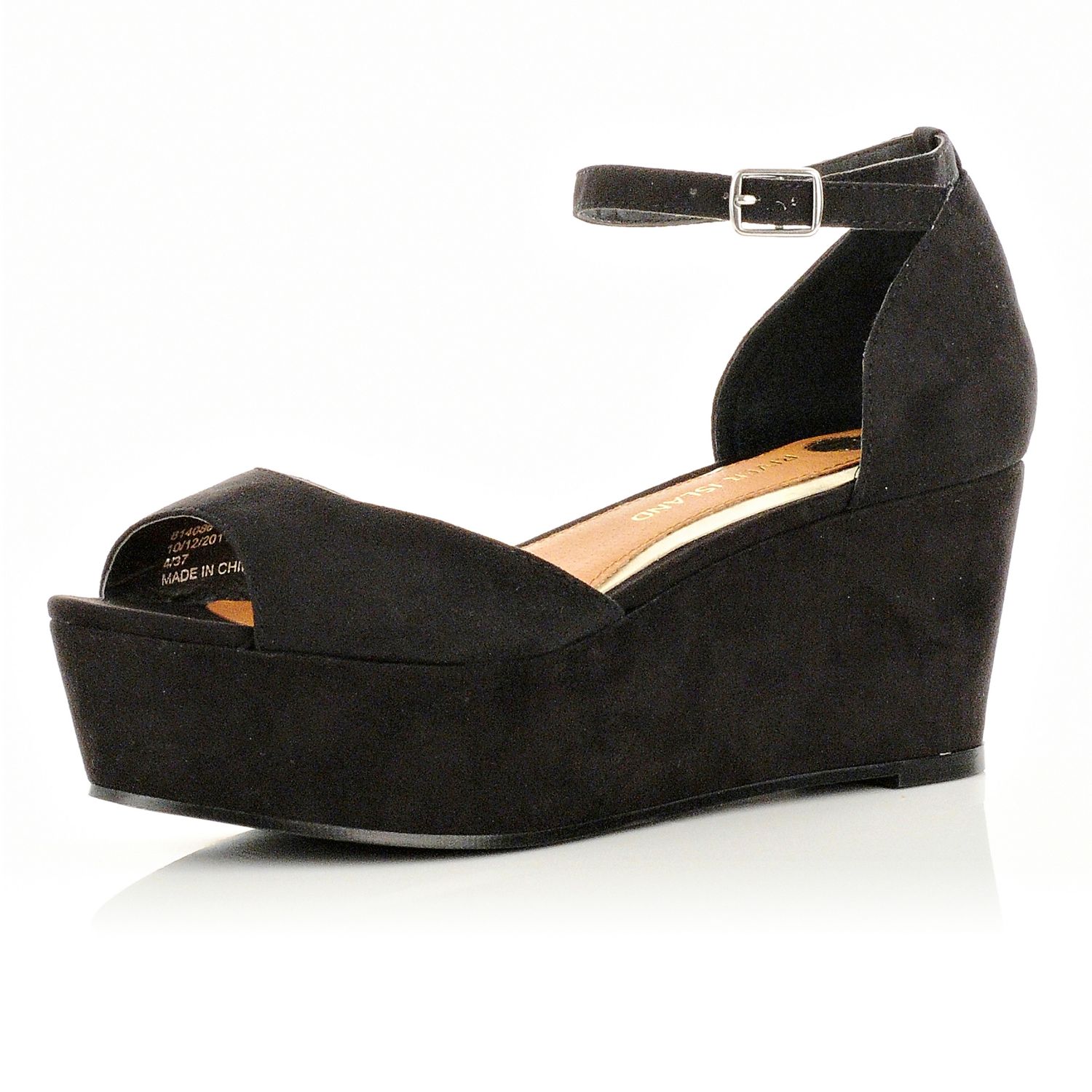 These remind me of Sabrina.. is it just me?
4. River Island Black Wedge Sandals
I also nearly cried at these in the River Island sale.. I'd say I nearly teetered out of the shop with them on. They were €16, and I'm also hoping that these will still be there nex time I'm in town.. and reduced! They're adorable. I first saw this style of shoe all over Lookbook, and immediately got attached. Aren't they wonderful? They're certainly easy to walk in, for anyone who's unskilled in the heels department.. they offer something different, too. You could vamp them up, or make them girly as hell.
I like some versatility in a shoe -
That's why I get on so well with my plain black Docs and creepers! Anyway, out of pure love for them I showed them to my mother, who of course replied with a typical 'they're too old for you!' - oh the joys of being 14, and a shoe aholic with an accountant mother. It doesn't work well, haha!
Maxstarstore.com - CHECK THEM OUT! amazing.
5. Max Star Platform Sneakers
I first saw these grace my Tumblr dash, and immediately needed to know where they came from. After months of searching, I came accross
Max Star
- The
official
stockists of this shoe. Beware of sellers on Big Cartel, Ebay and such - they are just reselling the shoe, and chances are you could be getting a much better deal by purchasing them directly here! They make mock-converse platforms, as well as official converse for all you out there who love the real deal.. Though it will cost you! Anyway, I have my heart set on these for Christmas, yup..
6. Dr. Martens Aggy 1490 Boot
These DMs are part of the recent Agyness Deyn X Dr. Marten range going on at the moment, and I recommend that everyone has a look at it.. it's spectacular! It really does combine the whole ethic of Dr Martens with the 'cool kid' vibes going on that the moment, shown perfectly in the likes of Aggy, who is marvelous. If I'm honest, just the fact that these have a lilac threading instead of the traditional yellow got me going.. It just shows you the attention to detail that goes into these,
and I just love lilac..
I adore the thick, chunky sole too. If you haven't noticed by now, I really do like chunky soles. You can check out the range
here
- just don't be surprised at prices. They
are
DMs, and they
are
special edition. You're getting your quality for money though, I can back that up completely!
I think I'll leave my shoe list to that - There are plenty more, but I'm depressing myself slightly. To be continued! Stay tuned, I have plenty of ~spooky~ stuff coming next week.